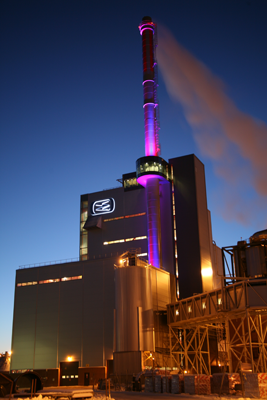 Smurfit Kappa Kraftliner invests in new portable instrument for condition monitoring
Smurfit Kappa Kraftliner in Piteå, Sweden continues to build on SPM products for profitable condition monitoring, and invests in the recently launched instrument Leonova Diamond® for its periodic measurement routines.
Smurfit Kappa Piteå is Europe's largest kraftliner mill with annual capacity of 700.000 tons. Kraftliner is a base paper made from virgin fibers and used for manufacturing of high-quality corrugated board. The products have good printability, good strength in humid environments and are chemically and biologically clean.
In early 2011, the multifunctional Intellinova online system with SPM HD® was installed on the four wash presses at Smurfit Kappa Kraftliner. Intellinova is also in use for online vibration analysis on one of the two paper machines. Leonova Diamond®, the new portable instrument for periodic measurements, also contains the award-winning and patented SPM HD® measuring technique, particularly well suited for the detection of deteriorating operating condition in low RPM equipment, and powerful functions for vibration analysis.
"The SPM HD measuring technique has proven to be an excellent method for early detection of bearing damage. For condition monitoring on slowly rotating equipment, SPM HD is superior to traditional vibration measurement. The purchase of Leonova Diamond will provide us with a great tool to better plan maintenance activities and keep track of our equipment's status," says Håkan Sirkka, maintenance technician at Smurfit Kappa.
Find out more about Smurfit Kappa Kraftliner here