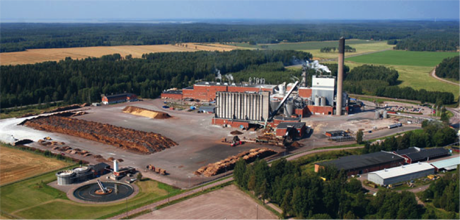 Nordic Paper in Sweden standardizes its condition monitoring with SPM
Norweigan/Swedish forest industry company Nordic Paper AS standardizes its condition monitoring, making SPM Instrument the main supplier of vibration monitoring technology for rotating equipment in all three production units in Sweden. The overall objective is to facilitate maintenance operations, reduce maintenance costs, and increase productivity.
For over a century, Nordic Paper has manufactured speciality papers for a variety of applications. Only renewable forest resources are used in the manufacturing processes, with the greatest possible consideration for the environment.
Nordic Paper's three Swedish paper mills in Bäckhammar, Säffle, and Åmotfors, all located in the province of Värmland in central Sweden, are standardizing their condition monitoring with the decision to use equipment from SPM in all three locations. This is to facilitate the work and enable users at the paper mills to easily share experiences, with the overall objective to reduce maintenance costs and increase productivity.
The Bäckhammar paper mill is now investing in two Leonova Diamonds, the new portable instrument with the patented SPM HD® measuring technique that is particularly suitable for measurement on low-speed applications. The instruments also contain powerful vibration analysis, including HD Order Tracking and three-channel measurement. For some years now, the Bäckhammar paper mill has successfully used Leonova Diamond's predecessor Leonova Infinity, which will continue to be used for measuring rounds on critical machinery.
Pär Ericsson, Preventive Maintenance Manager, about the decision: "Nordic Paper's Swedish production units have decided that SPM Instrument shall be our main supplier of vibration monitoring technology for rotating equipment. The paper mill in Bäckhammar has purchased two Leonova Diamond handheld instruments and will also invest in online measurement on low-speed equipment such as wash presses and the digester input and output, etc. Bäckhammar has used SPM handheld instruments since the late 1990s and will continue to do so."